Our Classes Trade and Trunk Shows

Classes
WE ARE SO EXCITED! SO HUMBLED! SO HOPING Y'ALL WILL CONSIDER JOINING US IN SAVANNAH, GEORGIA MAY 2019!!! for "Stitching In The Garden", an exclusive, luxurious and rejuvenating weekend in the gorgeous historic inn, The Gastonian. There is nothing prettier than Savannah in May and we're positive that you will be thrilled with the location.
We will have an exclusive design "Rain Spouts and Flowers" just for this special retreat. There will be more information about this design and the fob that will match, along with photos in future posts.
Space is limited for this class. The dates are May 2nd through the 5th, so mark your calendars and plan to attend. You may go to www.spiritofstitching.net to register.
UPDATE!
Here's the first photo of the class project in beautiful Savannah, Georgia! Picture in your mind gargoyles and spooky rain spouts all over historic Savannah. Then throw in an abundance of gorgeous May flowers, and then place some wrought iron fences and hanging moss into the mix. This will put you in the mood to come stitch with us.
"Stitching In The Garden"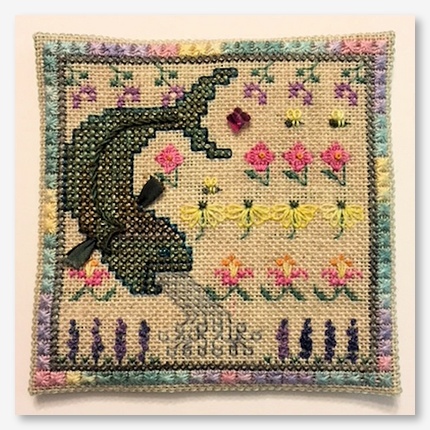 This design will only be offered through this event, so if you want it, you need to register and come to the retreat! Visit this web site for more information: https://www.spiritofstitching.net/2019stitchininthegarden

Trade Shows
We attend several shows during the year and we'll continue to post any and all right here. We exhibit at both retail and wholesale shows. So if you're in the area, make plans to attend, we'd love to visit!
Trunk Shows
We participate in many trunk shows around the country. Please check to see if there is a trunk show at your local needlework shop scheduled. If not, ask your LNS if they might consider sponsoring one. They are a lot of fun, and a great way to get together and share your love of needlework.
Pat and Peggy